LEAVING EDEN Interviews First with TalentRaters
Total Views: 1380
Wednesday,Sep 21, 2016
category Music
TR MAGAZINE's First Historic Interview
Joe Bennett, President of TalentRaters Inc. set up this interview with Eric Gynan of Leaving Eden from Boston MA. Eric is the co-founder, guitarist, keys and vocals of Leaving Eden.
1. How long has Leaving Eden been playing together?
I'd like to start by saying, We have wonderful "Worldwide" support through Alpha Omega Management/Touring, The Darkside Ent., & Rock Ave Records USA. It's so humbling to have such a team of incredible people who simply love Music as well as all of our friends who share all our stuffs everywhere! Leaving Eden has been performing and touring the USA, Canada and UK sharing the stage with some of the biggest rock bands in the world for over ten years now and it has been such a ride. Oh the stories I have lol!
2. What are the names of all the members of Leaving Eden and their role in the band?
Eve, Lead Vocals
Eric Gynan, Guitars, Keys, & Vocals
Johnny Vadala, Bass
Ryan Manning, Drums
3. Are you all the original band members of Leading Eden?
No, myself and Eve are the founding members.
4. How did all of you find each other?
I was searching for a singer and came across Eve and then Johnny was referred to us and Ryan came via Johnny. Worked out great!
5. How many Leaving Eden albums are there?
Leaving Eden has 4 officially released albums
Tied and Bound, Between Heaven and Hell (Right Recordings, Nova Via Universal limited UK) Welcome to my World, and Pinnacle (Rock Ave Records USA, California)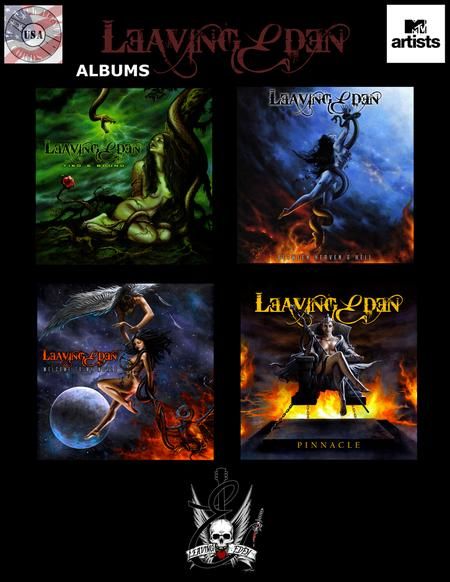 6. What is your favorite Leaving Eden album?
Hmmmm. Good question. I think our latest release Pinnacle because of the great production (Scott Creekmore & Chris Wisco) as well as the connection to the Universe. I've always felt connected but the connection becomes stronger each progressive album.

7. Why did you choose the name Pinnacle for your most recent album?

Yet another Great question! Ya know in our song Tied and Bound Eve sings "We've been screwed, overcharged, underpaid, and abused, we've been avoided, exploited, and falsely accused, we been cut down, let down, fucked around, tied and bound, but nothing to take the music away." So I make this correlation because in order to get what you want in this life you gotta crawl through the gutters of society, you've gotta go through hell first and deal with the devil, No easy game in order to be at the pinnacle rising out of the ashes. Also, the pinnacle being the tip of the spearhead forging the future and trendsetting.
8. Who does the writing for Leaving Eden?

I make the connection with the universe, use my meditative techniques like eyes closed, 3rd eye and fingers kind of like antennas to receive the info. It's all out there just gotta listen. Once the songs have a viable layout I then bring it to the band for their swing on it!! It works great for us. I really feel like I can't even take credit for the songs as when received, they are complete in my minds eye, I can hear them just like a cd playing in my head so it def comes from somewhere else. I'm just the conduit.
9. Where do you get your writing inspiration from?
The Universe and other bands that I might really dig.
10. Where is your favorite state or country to tour?
Love Canada but have to say over the pond in The UK. In Boston you look at someone and they say "what the fuck are you lookin at?" In the UK you look at someone and they say"Hey mate how are you?" Then, you definitely have the southern hospitality in the USA that I can't leave out.
11. Where is your favorite concert location and venue to perform at?
Hmmmm, another good question. I would have to say Rock City, Nottingham UK. You name the artist and they've been there from Ozzy, to Nirvana, to Rod Stewart. Also, right here in New England Via Live Nation, and Casino Ballroom Hampton Beach where Led Zeppelin and Janis Joplin have played.
"On behalf of Leaving Eden, we'd like to say it was a pleasure interviewing with you Mr. Bennett, and we all wish TalentRaters the very best and much success. To our friends all over the world, we are always thankful!" ~Eric Gynan
TalentRaters would also like to take this opportunity to thank Gerg Anidem with IndieSceneRadio (ISR) for connecting us with this excellent band. Find Gerg at IndieSceneRadio.com and be sure to catch his show and live chat with the artists on Tuesdays and Thursdays from 7 PM to 9 PM EST.
Visit us also at: http://www.leavingeden.com
LEAVING EDEN OUT OF THE ASHES (Official Lyric Video)